Living With Your Sensitive Teeth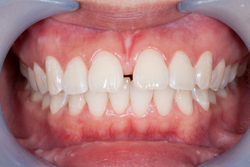 Lots of people love a good scoop of ice cream or a hot cup of coffee or tea in the morning before they start their day. If you have sensitive teeth, excessively cold or hot foods, and beverages can cause a zap of pain shooting down your tooth root. People with sensitive teeth need some help to make sure they can enjoy all of their favorite foods without pain. Here are some guidelines for your overly sensitive teeth.


Why Do I Have Sensitive Teeth?

There are several explanations for why you may have sensitive teeth. First, you may have areas on your tooth surface where the enamel is thinner. The thinner your enamel is, the more sensitive it will be to hot or cold foods. Also, if you have gum disease Stage 2 or 3, you may have tooth roots that are exposed at the gum line, which makes your teeth more sensitive. You may have a genetic predisposition to sensitive teeth if you have family members with sensitive teeth as well. Trauma to your mouth can also cause sensitive teeth.


What Can I Do About Sensitive Teeth?

If you have sensitive teeth, there are a couple of things you can try to minimize your discomfort. First, you can use kinds of toothpaste designed for sensitive teeth. Many of these toothpaste brands also work to add minerals to your tooth enamel to strengthen your teeth. Remineralization toothpaste can help you fight tooth sensitivity. Also, be sure you are using a toothbrush with soft bristles so that you are not brushing away tooth enamel as well as food particles.

People with extremely sensitive teeth may want to look into sealants. Sealants give your tooth an extra layer of protection, which may cut down on tooth sensitivity. If you have issues with sensitive teeth, it's time to have a conversation with a dentist about what tooth technique might be right for you.