CEREC Same Day Dental Crowns

Chicago, IL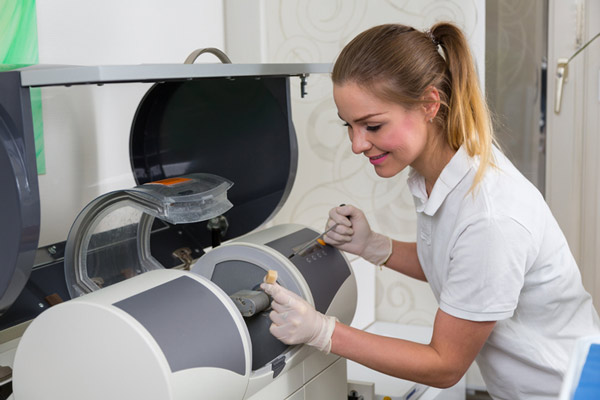 When deciding to receive a dental crown to restore your teeth, you probably want to see results as soon as possible. Usually, a dental crown can take up to two weeks before a patient receives their crown after the impression has been made during the previous appointment. But we are here today at East Village Dental Centre to tell you that you can receive a dental crown in a single afternoon thanks to advanced dental technology.


How CEREC Crowns Can Give You a New Smile In a day

CEREC stands for Chairside Economical Restoration of Esthetic Ceramics, and it is a relatively recent innovation in the dental world that helps patients get their crowns in a day rather than weeks. But how does this work?

The crowns are created using computer-aided design and computer-aided manufacturing, or CAD/CAM to design and build the crowns at the office. Traditionally, a dental crown would need to be made in a lab using the impression data and then shipped to the office. This is ultimately why a dental crown can take a long time to receive from the patient's perspective.

A CEREC crown is created using a block of ceramic that is carved out by a machine using collected data from scans taken of the tooth where the crown will be placed. This results in a crown that fits perfectly onto the patient's tooth. Essentially, a CEREC crown skips the intermediate step of having an outside source creating the crown.


Is There a Catch with CEREC Crowns?

There are a few things to note about CEREC crowns, but they are as stated. You will have a reasonably strong crown that aesthetically looks great thanks to ceramic's ability to closely mimic the shade and translucency of teeth. However, they are only as good as the data collected. If the scan is collected inaccurately and/or the data entered is off, then the result will be a poor fit. We are experienced using this new technology at our office, but this is worth noting as more and more dentist offices are adopting this technology that is a more recent innovation.

Additionally, CEREC crowns are not a good fit for teeth that have damages below the gumline as the cameras used for the scans only pick up what is visible to the eye. In most cases, patients will be able to choose a CEREC crown if they wish, especially if the reasons are for cosmetic purposes.

CEREC crowns typically cost more than the equivalent traditional ceramic crown, but the difference isn't as vast as you may initially think. In fact, it is only a few hundred dollars that separates them in most cases.

Lastly, if you want a different material than ceramic then CEREC crowns won't be able to fulfill that. If you wish to have a porcelain crown, for instance, which is considered one of the most durable crown materials, it will need to be created the traditional way.

Weighing your needs is important at the end of the day, and at East Village Dental Centre we are here to restore your smile in a way that is right for you. If you would like to schedule an appointment with us, you can call our office at 773-341-9325.