What is Pericoronitis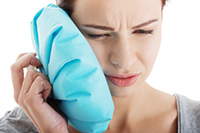 A partially erupted tooth that has not fully broken out of the gums increases the chances of one developing a gum infection or pericoronitis. Wisdom teeth often only erupt partially, making them hard to clean and maintain. In fact, they also leave one more susceptible to developing gingivitis, or gum disease, especially if the upper wisdom tooth erupts partially before the lower one. It can significantly damage the gums when a person bites down or chews, leaving the gums bruised and susceptible to infection.


Symptoms of Pericoronitis

Pericoronitis is the development of gingivitis around an erupted tooth. If you notice inflammation around a partially erupted tooth, chances are you are developing gingivitis. If left untreated, you may even develop gum disease, periodontitis which can significantly damage the dental structure.
Symptoms of pericoronitis are demarcated by symptoms of gingivitis in a localized area.


| | |
| --- | --- |
| • | inflammation in the gums – red or red-tinged gums |
| • | Gum bleeding – If your gums bleed, especially when you brush your teeth, you should visit your dentist. |
| • | Bad breath – Infection increases bacteria in the mouth, which can lead to bad breath. |
| • | Receding gums- Gums start to recede when the infection gets worse. If you notice the gum recession, you should visit your dentist immediately. If left untreated, it can lead to tooth loss. |
Treatment for Pericoronitis

To treat pericoronitis, the dentist will treat your impacted teeth. They will conduct an X-ray to determine whether the tooth will fully erupt or not and then decide the next course of action. If the tooth is not likely to erupt, the dentist will recommend tooth extraction to eliminate the root cause of the problem.
They may also wash the mouth to get clear the bacteria completely and remove any debris post-treatment or examination. You will also have to follow a proper dental maintenance routine to prevent the development of an infection during the healing period.