How often do I need a new toothbrush?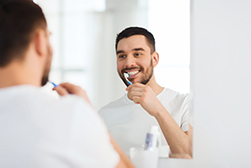 Proper dental hygiene practices are crucial if you want to always have optimal oral wellness. Regular brushing of teeth and flossing are important as is regularly visiting the dentist's office. One thing that many people do not know is that swapping their toothbrushes is an important part of good dental hygiene practices. When you visit our experts, they will explain the importance of regularly changing your toothbrush and advice the intervals within which you can do it. our dentists are knowledgeable and skilled and are passionate about the dental practice, and always want the best for our patients.


Change your toothbrush after every three months

Our dentists recommend three months for you to obtain a new toothbrush. This is because any longer than three months the bristles of your old toothbrush will become soft and will be ineffective in cleaning your teeth. A new toothbrush has firm bristles, that can effectively remove food particles that are on your teeth.


Importance of getting a new toothbrush after three months

Apart from getting firmer bristles with a new toothbrush, a new toothbrush has the benefit of minimal accumulation of bacteria. Bacteria accumulate on your brush after each use, and if you prolong using your brush, you will be putting your dental health at increased risk. Therefore, to avoid getting accumulated bacteria in your mouth, get a new brush that does not contain any bacteria.


Visit the dentist's office if you have troublesome plaque

Plaque is food that has accumulated on your teeth. If you suspect you have a stubborn plaque that does go away with brushing, you can make a point of visiting our practice, to get it removed. Our dentists use state-of-the-art equipment to effectively clean your gums and teeth. Call us to book an appointment for a consultation with one of our specialists.