Mouth Guard (Night) and Bruxism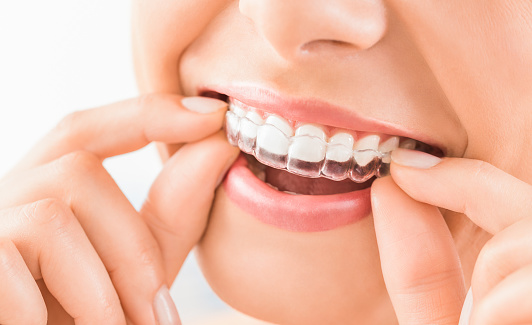 Protecting your mouth at night is one of the most important things you can do when diagnosed with bruxism - the act of frequently grinding and clenching of the teeth. Up to 40 million Americans grind their teeth at night, putting their teeth at risk for damages down the road and/or TMD. For most cases of bruxism, a custom-made mouthguard can be the answer for protecting both your smile and sleep schedule. At East Village Dental Centre we want you to have a long life of healthy teeth, and if you have the habit of grinding your teeth at night, we are able to work with you to get you set up with a comfortable mouthguard.


How a Mouthguard Protects Your Teeth

A mouthguard made for treating teeth grinding is similar to a mouthguard used for sports. It is placed on the top teeth and acts as a barrier to prevent the bottom teeth from making contact. This is a non-invasive treatment method that works for many people looking to protect their teeth and get better sleep.

We highly recommend having a mouthguard that is made specifically for your mouth over the ones you can buy over the counter. While those are very convenient, they pose some drawbacks that could potentially cause problems.


The Reason To Use a Custom Mouthguard

Over the counter mouthguards have the general shape to fit a person's mouth, but the fit will not be perfect. A mouthguard that does not sit right can shift around easily or even become misaligned while sleeping, which in itself could potentially damage your teeth. It is highly worth it to receive a custom mouthguard from us to ensure your comfort and protection at night.


Receiving Your Mouthguard

A mouthguard is created from an impression of your teeth - a mold essentially. This is how it will perfectly fit your mouth. After the impression is made, the mouthguard itself is created using the mold and then given to the patient. The material used can either be hard acrylic or soft, dual laminate.


Cost

Because the mouthguard is made specifically for you, the cost is higher than one bought off the shelf. Insurance can cover either all of the cost or a portion of it if you show signs of damage from grinding your teeth. The average cost of a custom mouthguard is $400 which isn't inexpensive, but because you'll be using it every night knowing that you won't have to worry about being uncomfortable, it could be worth it in the long run! Financing options are also available for making payments over time.


Are You in Need of a Nighttime Mouthguard?

If you currently grind your teeth at night and would like to protect your teeth and sleep better, we are here for you at East Village Dental Centre. Investing in your wellbeing is one of the best things you can do for yourself and we would love to work with you to help make your night's rest the best it can be. If you would like to schedule an appointment with us you can call our office at 773-341-9325 anytime you need.