When to See an Emergency Dentist

Chicago, IL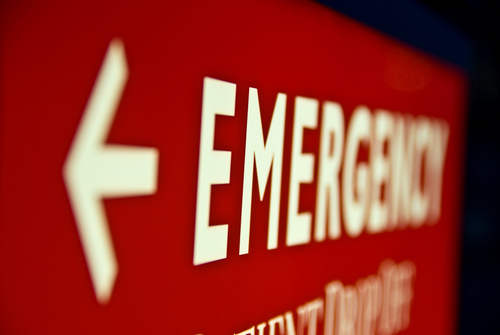 As we go through life, sometimes, accidents happen that require immediate attention. When it comes to your oral health, the situation is no different. Participating in sporting events or other unfortunate situations may lead to a dental emergency that you need to tend to immediately. Thankfully, you can rely on our team at East Village Dental Centre for your go-to emergency dentist near Noble Square in Chicago. If you find yourself in any of the following situations, make sure to visit us as soon as possible.

Call 773-341-9325 to schedule your appointment; we always reserve same-day appointments for emergencies.


A Cracked or Broken Tooth

Small cracks can wait until the next business day, but if you have a cracked tooth that is split to the root, you need to get this checked out as soon as possible! You may also notice that your tooth looks fine, but it is extremely sensitive to temperature changes within your mouth. Take this as a serious warning sign of damaged nerve or blood vessels. If your tooth is broken, rinse your mouth with warm water, apply pressure with gauze for 1- 2 minutes and then apply a cold pack to the check or lips while you are on your way to see our emergency dentist in Noble Square.


A Missing Tooth

If your tooth unexpectedly gets knocked out, it is important to try to place the tooth back into the socket. If this isn't possible, bite down on moistened gauze and keep the tooth in milk while you are traveling to the dentist. Apply a cold, wet compress to the socket if bleeding continues. It's also important to visit an emergency dentist if your tooth is partially knocked out of place, also referred to as subluxation.


Lacerations

Your gums, cheek and tongue help protect your teeth and keep your mouth healthy. You may have accidentally bit your cheek, your lip or your tongue and caused a laceration. Cuts such as these require immediate medical attention, and you can also apply pressure to the cuts with a moist piece of gauze or paper towel to help control bleeding.

If you're around Chicago,in extreme pain, and wondering whether or not it's necessary to visit an emergency dentist, you'd rather be safe than sorry. Our top priority is your health and your safety. We also tend to emergency tooth extractions, emergency root canals and toothache pain relief. We will assist you when you need it most!

To learn more, give us East Village Dental Centre a call at 773-341-9325 today!